5% OFF for orders HK$1,000+
7% at HK$3,000+, 10% at HK$5,000+
100% Discreet Packaging, Shipping & Billing

Affordable DHL delivery. 3-5 working days only.
716770084057
CEN
Thrusting Action Jack Rabbit - Pink

Product code 716770084057
Product description
Characteristics
Product description
Explore your wickedly wild side with the Thrusting Action Jack Rabbit. The combo vibe boasts 10 power-packed vibration, pulsation and escalation functions, 4 intense thrusting and rotating actions, and a soft, curvy bunny shaped clitoral teaser. The glitter finish massager measures 4.75" x 1.5"/12cm x 3.75cm and is made from smooth and soft TPR, with easy push button ABS controls and an auto off switch. The powerful stimulator has a thrusting shaft with arounded tip and multiple rows of thrusting and rotating metal beads, and a curvaceous bunny teaser, with flickering ears. Use the vibe to massage away tension, and to stimulate sensitive sweet spots all over the body. The waterproof rabbit massager is ready for action whenever you are in the mood and can be used in the water. Insert 3 AA batteries and you're good to go! The combo stimulator is ideal for experienced and first timer users, and suitable for playtime fun in the bath, shower or hot tub. Always use with a quality lube to maximize your intimate pleasure.

Materials Thermoplastic Rubber
Power Source 3AA (Not Included)
Features Phthalate Free, Waterproof, Vibrates
Allergens N/A
Warranty 90 Day Warranty
Max Run Time N/A
Max Charging Time N/A
Measurements 4.75" x 1.5" / 12cm x 4cm (Vibrator)
Weight Bulk:16.8(oz) / 0.48(kg) | Package:18.3(oz) / 0.52(kg)
Package 2.5 x 6.5 x 14.75(in) / 6.25 x 16.25 x 37(cm)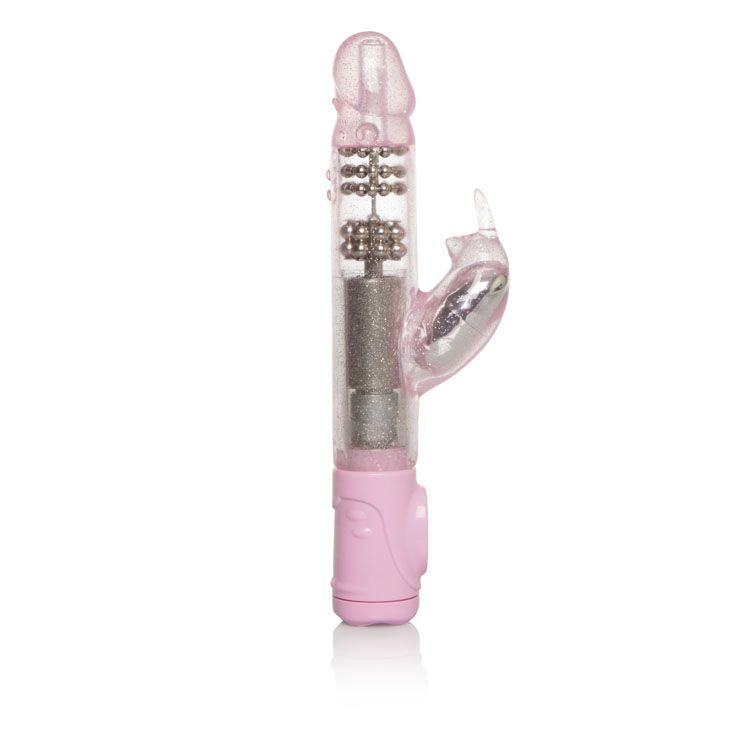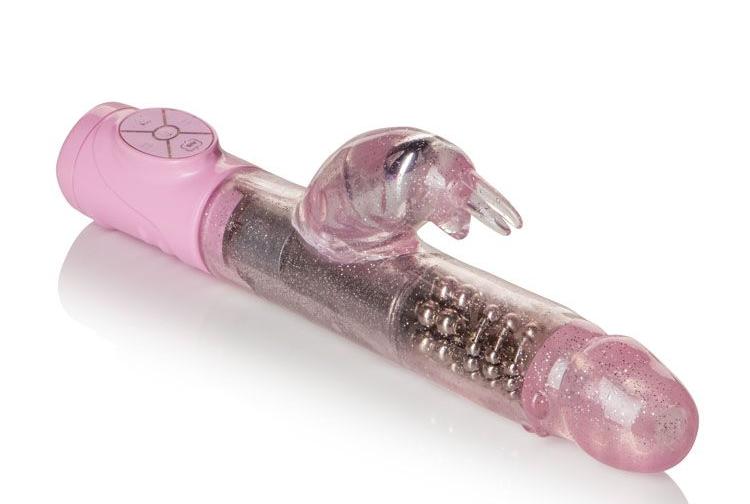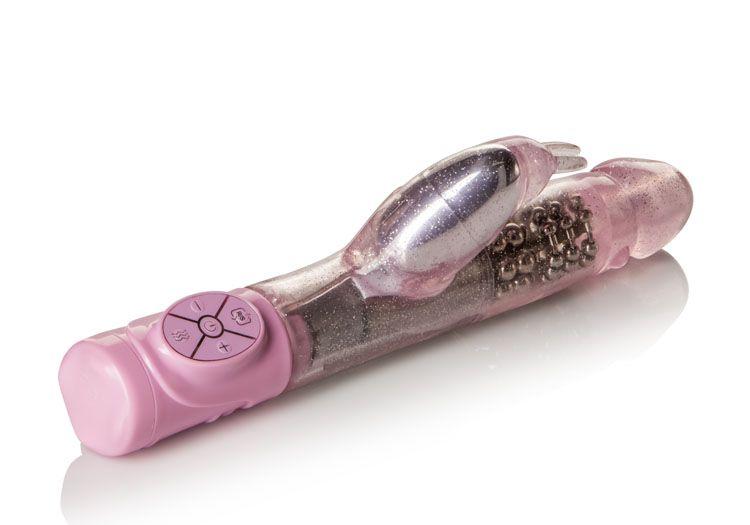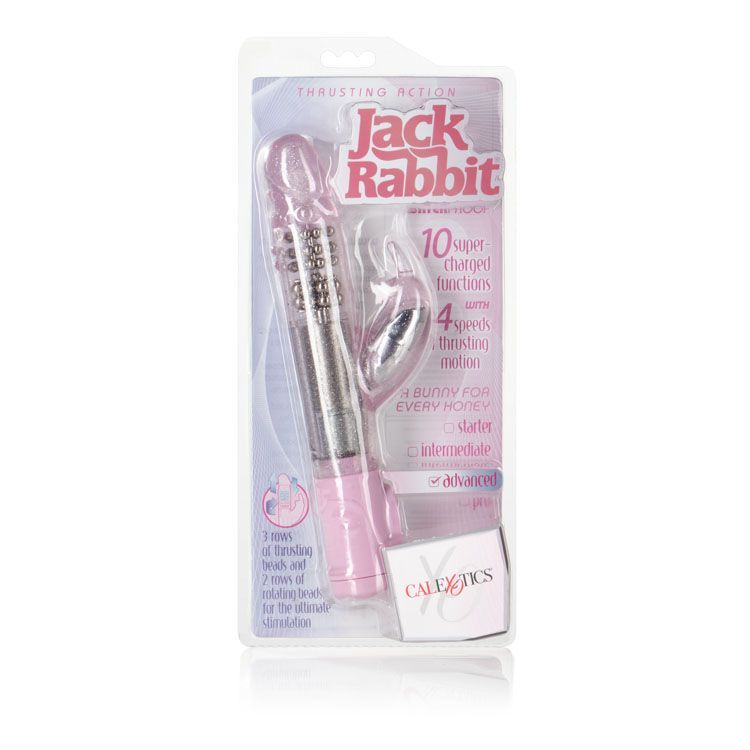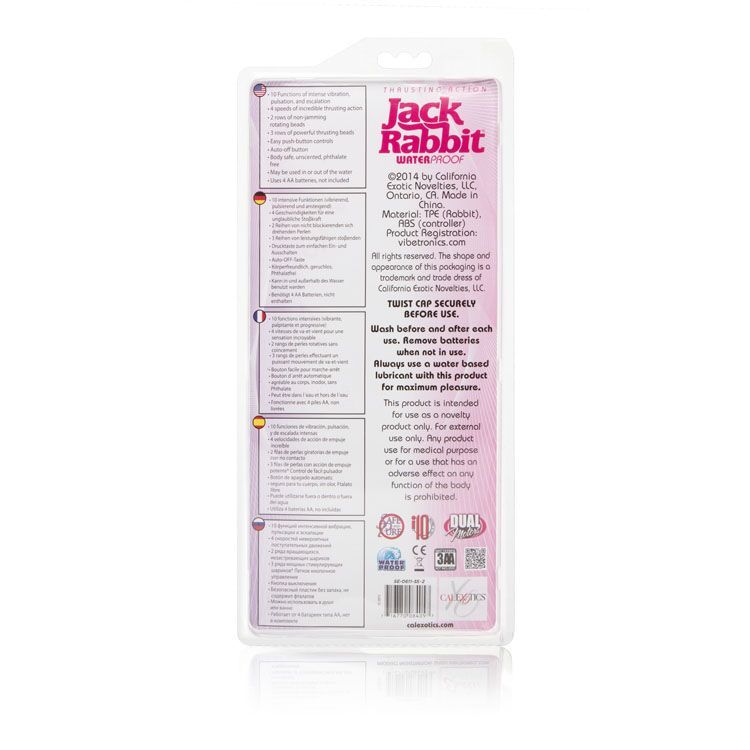 Questions & Answers: 14
Questions & Answers
Are the products authentic?
Yes. We work only with official vendors and manufactures. You can be sure, that you will receive 100% original item.


What if I have a privacy question?
You may address any privacy-related questions, please submit a support ticket at
cs@taketoys.hk
How can I place an order?
Once you've found the product you want to purchase, click the add to shopping cart button. Once you are done choosing the items, click the proceed to checkout button to fill in the information required. Choose your desired shipping and payment option. Once the order has been placed, you will receive a confirmation via email.


You can use following methods:
-
Bank Cards
(Visa, Mastercard)
-
Paypal
-
Bank Transfer
(ATM or online banking) with 3 banks
HSBC, Bank of China, Standard Chartered Bank for transfers in Hong Kong
and HSBC for outside of HK transfers
-
Cryptocurrency
(most anonymity and confidentiality way. You can pay with Bitcoin, Ethereum etc. )
-
e-Wallet
(TNG)
(this payment method is quick and easy. After making order just scan QR-code using TNG-app on your smartphone.)
-
Cash
on delivery right now available only if you pick up your order at one of our
stores
in Hong Kong. More details at our
delivery and payment page
Do you ship internationally?
Yes, we ship almost to every country.
Please check our
shipping info
for more details. Kindly contact us if you face any problems during checkout.
Will my order be discreetly packed?
Yes. Every order is packed in standard discreet plastic bag or cardboard box without any reference to a sex shop or sex toys.

The courier and other people will have no idea of what is inside. "Alma Trend Ltd" will be mentioned as the sender in invoice and "products" as the content.
Your privacy is our primary concern.


How would a charge from TakeToys show on my credit card/banking statement?
Charges from TakeToys on your credit card statement/PayPal will read "Alma Trend ltd" as the merchant.


Can I place my order over the phone?
If you have no time or do not want to make the order by yourself online and fill in the forms, just call or WhatsApp us and we will prepare the order for you.


How do I ship to an address that isn't mine?
When placing an order you can choose a different shipping address as your billing address on the shopping cart pages before checking out.


Can I get it delivered to my work address?
Yes of course and rest assured the parcel is super discreet so no one will have a clue to its contents or who delivered it.


What if I change my mind after payment and want to replace my product with some other?
Our manager will recount your order and refund excess amount (by cash with order or to your credit card) or ask you to pay extra.


It's easy to replace or return the item, if needed
We check every item before delivery and carefully choose official vendors to work with.
In the unlikely event that you receive a defective product,
please contact us
to speed up the return process. We will do our best to replace it or a make a full refund to you ASAP.
However due to health concerns and the nature of our products, we are unable to accept used, and non-defective products including batteries, pills, condoms, lubricants and toy cleaners.
Yes. We offer discounts such as 5% OFF for orders HK$1000+, 7% at HK$3000+ and 10% at HK$ 5000+.


Can I avoid meeting any person while delivering process?
Yes. Please, select self-pickup from the EF-Locker points.


Product features
Explore your wickedly wild side with the Thrusting Action Jack Rabbit. The combo vibe boasts 10 power-packed vibration, pulsation and escalation functions, 4 intense thrusting and rotating actions, and a soft, curvy bunny shaped clitoral teaser. The glitter finish massager measures 4.75" x 1.5"/12cm x 3.75cm and is made from smooth and soft TPR, with easy push button ABS controls and an auto off switch. The powerful stimulator has a thrusting shaft with arounded tip and multiple rows of thrusting and rotating metal beads, and a curvaceous bunny teaser, with flickering ears. Use the vibe to massage away tension, and to stimulate sensitive sweet spots all over the body. The waterproof rabbit massager is ready for action whenever you are in the mood and can be used in the water. Insert 3 AA batteries and you're good to go! The combo stimulator is ideal for experienced and first timer users, and suitable for playtime fun in the bath, shower or hot tub. Always use with a quality lube to maximize your intimate pleasure.

Materials Thermoplastic Rubber
Power Source 3AA (Not Included)
Features Phthalate Free, Waterproof, Vibrates
Allergens N/A
Warranty 90 Day Warranty
Max Run Time N/A
Max Charging Time N/A
Measurements 4.75" x 1.5" / 12cm x 4cm (Vibrator)
Weight Bulk:16.8(oz) / 0.48(kg) | Package:18.3(oz) / 0.52(kg)
Package 2.5 x 6.5 x 14.75(in) / 6.25 x 16.25 x 37(cm)