5% OFF for orders

US$131

+
7% at

US$393

+, 10% at

US$656

+


100% Discreet Packaging,
Shipping & Billing

4032498805580
Fun Factory
G5 Der Vibe Tiger - Black

Product code 4032498805580
Shipping:





FREE Shipping

See details


This product qualifies for free shipping to

United States

Shipping:
Weight: 800 g


FREE Shipping

See details


This product qualifies for free shipping to

United States

Payment:

Payment:





Guarantee:
Money Back Guarantee
We will make a full refund if you decide to cancel your order by any reason

Guarantee:



Money Back Guarantee
We will make a full refund if you decide to cancel your order by any reason
Product features
Diameter (cm): 4
Length (cm): 22.5
Color:
Material: Silicone
Brand: Fun Factory
Country: Germany
Vibration: yes
Insertable length (cm): 12
Waterproof: yes
Warranty (months): 24
We've brought you our bestselling TIGER vibrator in jet black, for a bolder flavor of FUN.
Quiet, powerful motor
Curved for G-spot or prostate play
Ergonomic loop handle
Intuitive controls with QuickSTOP function
Travel lock, to avoid awkward situations
Butt safe
Battery charge light – never run out of fun
Length: 8.5 in
Diameter: 1.6 in
Designed and handcrafted in Germany
Rechargeable – Love the Earth.
Made of body-safe silicone – Love yourself.
Waterproof – Get wet.
Easy to clean with TOYCLEANER or water and a mild soap
Unleash Your Inner Animal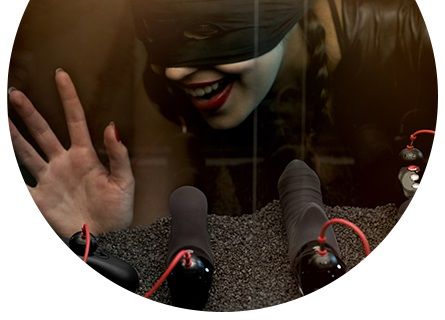 This sleek black toy doesn't just seduce: it delivers intense, rumbling vibration! Thanks to our FlexiFUN Technology™, its silicone shaft moves with you, letting you try position after position, for a night of passionate FUN. Its silicone ridges and grooves ripple against your skin, for entirely new kinds of sensation. Massage your G-spot or prostate with its prominent head or lube it up and tease your partner with its textured shaft.
Craving a change? Take this 100% waterproof vibe with you for some steamy shower sex. The shining black loop handle and raised buttons make it easy to operate the TIGER – BLACK LINE from any angle.
Intense internal pleasures thanks to the rounded tip that makes it perfect for vaginal and G-Spot stimulation
This toy can be used anally.
Six vibration intensities and Six vibration rhythms give diverse pleasures.
TIGER G5 - BLACK LINE is a battery operated vibrator with an attached and integrated battery charger inside the toy. It is charged using the original MAGNETIC CHARGER of the CLICK 'N' CHARGE system.
All FUN FACTORY toys are invented, developped, designed AND produced in Bremen, Germany.
FUN FACTORY offers a diverse and colorful spectrum of toys all made with 100% medical-grade silicone!
Carefully clean the toy before first use and after each use with warm water and a mild soap. The CLEANER is especially suited for cleaning erotic toys as well as for gently washing genital areas.
A few drops of lubricant ensure a pleasant feeling when inserting the toy. FUN FACTORY recommends a water-based lubricant such as the TOYFLUID.
NOTE: Contact with oils and creams (sunscreen, edible oil, lip balm, etc.) may cause irreversible damage to the control unit and the entire toy
22,5 cm and Ø 4 cm, 282 g
black friday







Excellent quality. Quick shipment and I am enjoying the use of the toys.
Submit review