5% OFF for orders

US$131

+
7% at

US$393

+, 10% at

US$656

+


100% Discreet Packaging,
Shipping & Billing

6970465740251
Adrien Lastic
Mini Bonnie Rotating Rabbit - Red

Product code 6970465740251
Product features
Unique rechargeable rampant rabbit with innovative natural wave system massaging the whole vagina from top to bottom! Plenty of new sensations to play around, enjoy and share! The only rabbit in the market to offer this rotation system for a full vaginal massage.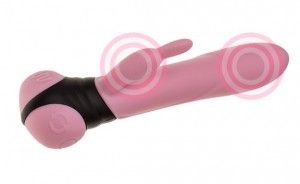 The Mini Bonnie is a bad girl with devilishly-delectable intentions to tease you, but always please you in the end. This rampant rabbit hops her way precisely to your G-spot and clitoris simultaneously for double the stimulation.
Her rotating shaft provides a full, erotic massage for your tight, little rabbit hole. If you push her buttons, she'll whisper deeply inside you in 10 ultra-quiet rotating speeds. Just like a rabbit vibrator, she'll seduce you with her rapid, super-speed pulsations, but she's dominant in teasing, offering you a brief break with the slower, steadier settings. She loves the balance between sensitive and intense.
Whether you want to take her abroad or just a hop away, Mini Bonnie is portable and perfect for travel. Simply charge her up for 120 minutes to enjoy her for a full, exhilarating hour. Mini-sized and discreet, Adrien Lastic's 'little bonnie bunny' is perfect for a pocketful of playtime.
This mini, yet powerful, dual-action vibrator is creatively covered in a silky, silicone surface, creating ultimate pleasure for both your delicate bits. Designed with women in mind, the dual, rotating motion of the smooth, firm shaft and the short, clitoral-seducing wand fully massage your depths, walls and sensitive chambers all at the same time.
Adrien Lastic recommends the use of water-based lubricants for an easy and smooth insertion of all silicone products. Do not use silicone lubricant, oils or creams with any silicone product as they can degrade the product material, limiting its performance and lifespan.
Thoroughly clean the toy before and after each use with warm water and mild soap.
Store your Adrien Lastic toy in a dust-free place and keep it away from toys of other materials. Avoid leaving it in direct sunlight and NEVER expose it to extreme heat.

































Loving the quality and feel of this vibe, fully worth the cash splashed on it. Top buy for sure
Submit review
Popular products in Rabbit Vibrators