5% OFF for orders

US$131

+
7% at

US$393

+, 10% at

US$656

+


100% Discreet Packaging,
Shipping & Billing

4251460611022
Womanizer
Liberty - Powder Blue

Product code 4251460611022
Shipping:





Estimated shipping cost to

United States

US$41.32

See details
Shipping:
Weight: 360 g


Estimated shipping cost to

United States

US$41.32

See details
Payment:

Payment:





Guarantee:
Money Back Guarantee
We will make a full refund if you decide to cancel your order by any reason

Guarantee:



Money Back Guarantee
We will make a full refund if you decide to cancel your order by any reason
Product features
Ladies, get ready for takeoff: with a stylish cover and six levels of stimulation, the Liberty guarantees pleasure in every place on the planet.
The Womanizer with the reliable Pleasure Air Technology. In a practical travel-friendly size with a magnetic cover for secure storage.
The Womanizer is not just any sextoy for women, it is THE sextoy for women. What makes the Womanizer so special? Clitoral vibrator is equipped with the Pleasure Air Technology which is patented by brand. The Womanizer encloses your clitoris without touching it whilst stimulating it via soft pressure waves.
Unlike other vibrators, the habituation effect or a feeling of overstimulation doesn´t arise. So, it does not matter whether this is your first sextoy or not: it will provide you with a unique feeling. Always. Everywhere. Are you ready for this completely new experience?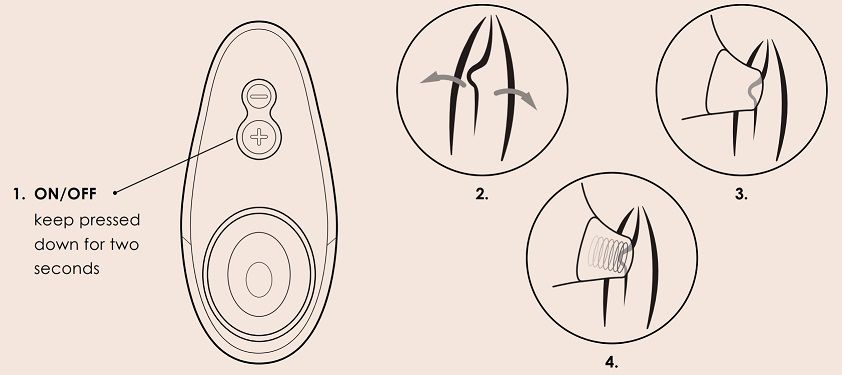 There are numerous reasons for why reaching an orgasm is sometimes easier, harder or not achievable at all. First there is the pill, which can influence your libido, then there is menopause which comes with its own discomforts. Sometimes we don't feel comfortable in our skin or are simply too stressed to be able to relax.
Nonetheless, we do not want to miss out on orgasms! The Womanizer, clitoral stimulator with its varying intensity levels is the ideal companion on your way to an orgasm. No matter when. No matter where. We believe, that every woman has the right to orgasm.
The Womanizer is a lay-on pulsator for contactless stimulation of the clitoris.
It sucks and stimulates via impulses in 6 intensity levels.
The intensity levels can be controlled with the 2 buttons.
100% waterproof (IPX7).
The Womanizer will automatically turn itself off after approx.
30 minutes to avoid overheating.
It can then be used again for 30 minutes, once it has cooled down.
Includes a cover and a replacement head.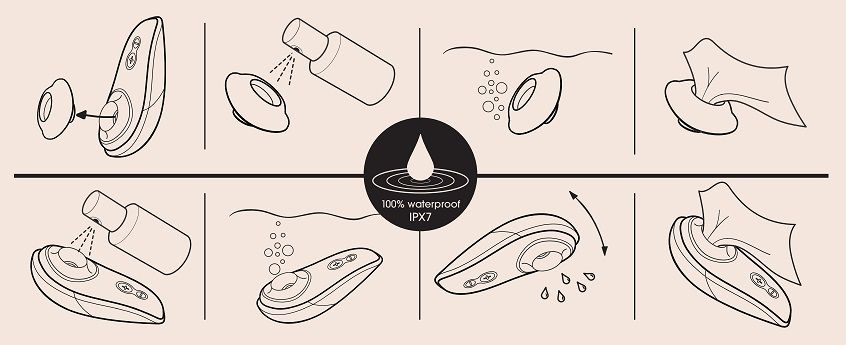 Patented Pleasure Air Technology
Travel cover with magnetic closing mechanism
6 NEW intensity levels
Waterproof IPX7
Easy to use with two buttons
Rechargeable (Magnetic Charging)
LED with charging level indication
Battery run time 120 mins
Charging time 60 mins
Quick Start Guide
Material: ABS, silicone
Size: 104 x 55 x 48 mm.
Weight: 90 g.
Material: ABS, PU, silicone, phthalate-free according to EU Regulation REACH.
It can be recharged with the included USB cable.
What's in the box:
Womanizer Liberty
Additional stimulation head in bigger size
Magnetic Pin USB charging cable
Operating instruction













It was my first experience with a toy like Womanizer, which sucks on a clit, and I didn't have much expectations on it at first. I thought it would just make cum in 30 seconds as all vibrators I've tried before. But the way of Womanizer's vibration seems to be quite special and it causes variety of feelings in clit and pussy.

The toy has seven levels of vibration or speed. The first and the mildest levels are good not only for clit stimulation but also for a sensitive zones around pussy. If you just want to cum fast, you can set it up on the last and the strongest mode. Honestly I'd prefer that the toy has more slow and mild levels of vibration – even the first level is a bit strong for me and makes me cum too fast. Nevertheless I'd like to notice in addition, that the speed of vibration can be manipulated even during the use. I've also heard that some girls can squirt with Womanizer but I haven't experienced it yet.

Womanizer is quite small and compact, that's why it can be used during sex or with another sex toys like dildos to experience different types of pleasure at the same time.

I also like design of the toy in light blue color. It has two caps included, that's why the toy can be used by two persons. The cap is removable and can be washed under the tap water.

The toy is rather quiet, vibration doesn't make much noise. It gives an opportunity to use a toy in a public toilet I guess :)
All reviews (1)
Submit review
It was my first experience with a toy like Womanizer, which sucks on a clit, and I didn't have much expectations on it at first. I thought it would just make cum in 30 seconds as all vibrators I've tried before. But the way of Womanizer's vibration seems to be quite special and it causes variety of feelings in clit and pussy.

The toy has seven levels of vibration or speed. The first and the mildest levels are good not only for clit stimulation but also for a sensitive zones around pussy. If you just want to cum fast, you can set it up on the last and the strongest mode. Honestly I'd prefer that the toy has more slow and mild levels of vibration – even the first level is a bit strong for me and makes me cum too fast. Nevertheless I'd like to notice in addition, that the speed of vibration can be manipulated even during the use. I've also heard that some girls can squirt with Womanizer but I haven't experienced it yet.

Womanizer is quite small and compact, that's why it can be used during sex or with another sex toys like dildos to experience different types of pleasure at the same time.

I also like design of the toy in light blue color. It has two caps included, that's why the toy can be used by two persons. The cap is removable and can be washed under the tap water.

The toy is rather quiet, vibration doesn't make much noise. It gives an opportunity to use a toy in a public toilet I guess :)
Submit review